Oct
12
Thu
Imagine A Day Without Water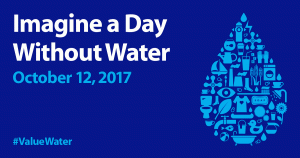 If you think about it, water unites us all. Of course, people say it should be a priority, but can you even begin to imagine a day without water? It isn't just your personal use of water – brushing your teeth, flushing the toilet, taking a shower – though those rituals are vital. Water is also essential to a functioning economy.
What is a college campus or a hotel supposed to do if there is no water? They close.

How can a Santa Fe restaurant, coffee shop, or

brewery

serve customers without water to cook, make coffee and beer, or wash the dishes? They can't.
There is no doubt about it – a day without water is a crisis. That is why the Santa Fe Water Conservation Office is joining with hundreds of groups across the country for Imagine a Day Without Water and we're encouraging residents of the City Different to participate. Join us along with our local partner, Second Street Brewery, by sharing thoughts and imagery about how a day without water would affect Santa Feans. 
Water is a public health issue, it is an economic issue. No community can thrive without water, and every Santa Fean deserves a safe, reliable, accessible water supply.
Facebook: https://www.facebook.com/savewatersantafe
Instagram: @savewatersantafe
Twitter:@savewaterSFe