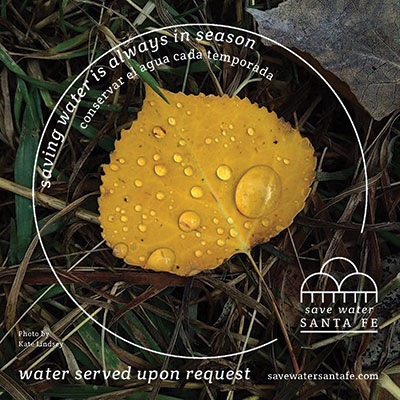 Businesses like yours have contributed to Santa Fe's success in conserving water. We need your help to continue these efforts. For business owners, just like for homeowners, saving water means saving money. You can take steps beyond the city rules to improve your bottom line.
To request water conservation signage, click here.
The Water Conservation Office would like to remind you of some conservation requirements for your business:
Public, semi-public and governmental entities are required to post water conservation signs in restroom and shower facilities.

Outdoor irrigation is prohibited between 10 am and 6 pm from May 1 through October 31. It's recommended that irrigations systems be shut down for the winter on or before November 1.

Using water to clean hard surfaces with a hose or power washer is prohibited (e.g. driveways, sidewalks, parking lots, outdoor eating areas).
To download City of Santa Fe Comprehensive Water Conservation Requirements, click here.
Train your staff about these requirements, incorporate this information into new employee training and post signage to educate your customers. The Water Conservation Office provides signs at no charge. To request signage, please call 955.4225. Please note that a violation of the ordinances can result in a warning, and repeated violations are subject to citations ranging from $20 to $200.
To encourage saving water, the Water Conservation Office provides valuable incentive rebates for the replacement of high water use commercial fixtures, such as high-efficiency toilets (HET) and water free urinals, as well as some appliances (terms and conditions apply). Please contact us for more information about the available rebates or if we can assist you with making your business more water efficient.