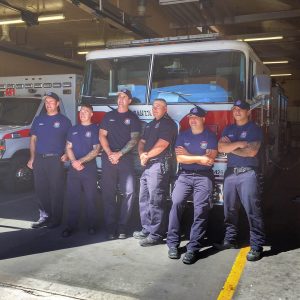 The City of Santa Fe Water Conservation Office launched a new video aimed at raising awareness about the value of water and our public health. Starring City of Santa Fe Firefighters, the video demonstrates the real threat for injury and property damage when a structure fire can't be put out. Watch the video below.
Previous Water Conservation Day Without Water videos have focused on the impact to local breweries and restaurants.
A day without water is a public health and safety crisis. It means no water to shower or flush the toilet, and no water to drink or cook with, no water to do laundry or dishes and makes it impossible for doctors and firefighters to serve the community.
The fourth annual Imagine a Day Without Water is a nationwide day of education and advocacy about the value of water.  While most Americans cannot imagine a day without water, there are many communities that have lived, and are living, without water because they don't have access to safe and reliable water systems.
Mayor Alan Webber said, "Our water infrastructure is often out of sight, out of mind; but it supports every facet of our daily lives. Today is a chance to remember that the systems we count on for water at our homes and businesses require investment and upkeep—just like roads and bridges."
He added, "The climate challenges we face: natural disasters, drought, flooding, and wildfire, require locally-driven solutions. We must continue to invest in building stronger water and wastewater systems. Investing in our water now means no Santa Fean will have to imagine a day without water in the future."
A single nationwide day without water service would put $43.5 billion of economic activity at risk. In just eight days, a national water service stoppage would put nearly two million jobs in jeopardy.