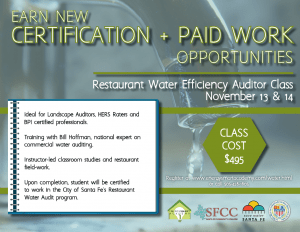 There will be a Restaurant Water Efficiency Auditor Class on November 13 & 14 at the Santa Fe Community College. This class is ideal for Landscape Auditors, HERS Raters and BPI certified professionals.
Bill Hoffman, national expert on commercial water auditing, will train the students. The two-day class will consist of instructor-led classroom studies as well as restaurant field-work. Upon completion, students will be certified to work in the City of Santa Fe's Restaurant Water Audit program.
This class was developed through a partnership between the City of Santa Fe Water Conservation Office, Santa Fe Community College, the Energy Smart Academy, and the Santa Fe Green Chamber of Commerce as part of a pilot project Make a Reservation to Save Water, which encourages Santa Fe restaurants to join an effort to find solutions to reduce their water usage.
To register visit www.energysmartacademy.com/water.html or call 505-428-1805. For more information about this program visit https://www.santafegreenchamber.com/make-a-reservation-to-save-water