Make Every Raindrop Count!
Make the most of Santa Fe's monsoon season
Monsoon season in The City Different looks different from year to year. Some years the rainfall is abundant, other years it's extra scare. Every year every drop counts. Value water.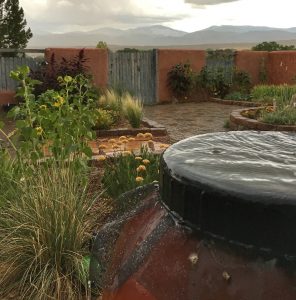 From The RainCatcher Inc:
Rainwater can be used in many ways once it has been stored, i.e. for irrigation, fountains, ponds, animals, and domestic uses for humans. The RainCatcher installs many types of passive and active rainwater catchment systems to help you use this free water source wisely.
What are the benefits of rainwater harvesting?
The benefits of harvesting rainwater (both passive and active) are many! Stored rainwater can sustain a landscape in a drought and saves well water or money on water bills. Collecting rainwater from impermeable surfaces and using it purposefully in the ground allows for the water to be cleaned by the soil's microorganisms. It also allows that specific area of soil to grow plants that may not survive on typical rainfall alone. Water harvesting recharges aquifers, both shallow and deep.
Learn more at The RainCatcher Inc.
Below are details about our rain water harvesting rebates. For full details about our rain water catchment rebates visit our Outdoor Rebates page
U.S. Drought Monitor
The U.S. Drought Monitor has helped track drought across the U.S. since its inception and has helped inform policy decisions and relief packages.
NM Drought Status
Drought Management
Saving water is always in season in Santa Fe, in wet times and dry. Some restrictions on water use are always in place. To find out more about year-round requirements, click here.
City water managers constantly monitor for drought conditions and keep up-to-date on snowpack, reservoir levels and weather conditions. Drought or no drought, water conservation and drought awareness are cornerstones of the City's comprehensive water planning approach. Visit our Drought Management page to learn more about how we plan for and manage drought.