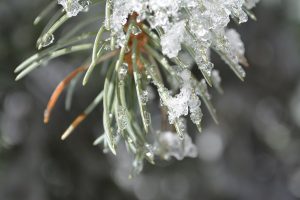 It's that time of year to prepare our homes for winter. Saving water isn't only for the hot seasons. We do a lot of things to help us conserve water and energy for the winter.
The outdoor growing season in Santa Fe has officially come to a close. Winter is around the corner, which means your outdoor landscape no longer needs regular watering.
Frozen pipes can burst and cause costly leaks so be sure to winterize your irrigation system. It's time to disconnect hoses and cover/insulate your faucets. This includes draining your pipes, turning off your irrigation timer, and closing the main shut off valve. Also, don't forget to disconnect your outdoor hoses and empty rain barrels.
Following these precautions to help avoid costly repairs for leaks:
To avoid frozen pipes and costly repairs, the City suggests following these precautions:
Turn of your irrigation controller
Close the main shut off valve
Drain the pipes
Disconnect and drain outdoor hoses
Insulate above-ground pipes
Install a freeze sensor
Also be sure to sign up for EyeOnWater, an exclusive benefit for city utility customers. You can either download the mobile app or use a laptop/desktop to monitor your water use and set up leaks alert. EyeOnWater recognizes continuous flow, which is a strong indicator that you might have a leak. It's free, easy, and can save you money on your bill and this technology will help you learn how and where you can save more water.