December is here and as we transition into the giving mode, why not think about water saving gifts that keep on giving? Water efficient items and appliances and helping friends, family and neighbors with making waterwise choices will give back all year — not only in the amount of water saved, but also money saved on water bills.
Check out our water saving gift guide for your water conscious family and friends of all ages.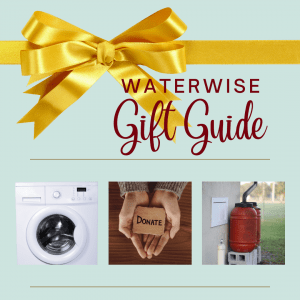 Waterwise Dining Gift Certificates. Some people don't seek joy from material things. If you're wondering what to get that minimalist friend who doesn't like to accumulate more "stuff" during the holidays, get them a gift certificate from one of the over 60 City Certified Waterwise restaurants. Supporting local restaurants that care about every drop of water they use is a win-win.
EyeOnWater. For the tech whiz types, give the gift of your time by sitting down with a non tech savvy parent or grandparent to help them sign up for EyeOnWater account and set up a leak alert so they're sure to know if they have a leak.
5-Minute Shower Mastery. Another great gift idea is a waterproof digital timer to track shower time for the ultra waterwise friend or relative who you know would love to master the 5-minute shower.
Donations to Water Conscious Organizations. More people these days are realizing they'd rather give through action and positive community impact. Consider donating to local organizations that have a water program such as the Santa Fe Watershed Association, the Santa Fe Botanical Garden, and the Randall Davey Audubon Center & Santuary. These organizations also have merchandise that would make great gifts, the proceeds of which would support their programs. You can also adopt the watershed, the Santa Fe River and arroyo in someone's name. Or you can adopt a median and landscape it with native waterwise pollinator plants.
Waterwise Landscaping. For the gardener or plant lover in your life and to help protect Santa Fe's urban forest, purchase a drought hardy tree, waterwise pollinator plants and cactus. It's easy to find the perfect plant with our Pollinator Resource Guide and our water saving plant and cactus lists . Visit our local nurseries and get a gift certificate with the name of the plant, seeds or tree you wish to give. You can also give a rain barrel to capture roof runoff to water plants, plus it can get you a rebate.
Capture That Water! To care for your plants, look for a shower flower product that captures water while the shower is warming up and then the water can be used to water plants instead of going down the drain. 
Water Efficient Home Appliances. Treat yourself and your family by replacing older dishwashers, clothes washers and toilets with new efficient ones. The city will give you a gift in return with a rebate but be sure to check our website for qualifying models before you purchase.
Say No To Plastic! Reusable stainless steel water bottles are perfect gift for anyone of any age and help reduce our plastic use. There are so many styles on the market now, there's one for everyone.
Waterwise Car Care. Do you have friends or family members that cherish their cars? Give them waterless car wash products designed to keep your car tiptop clean without a hose and bucket. 
Water Conscious Learning. Whether you are needing to get something for a child, teen, or adult, there are plenty of awesome water books to keep them reading for hours and maybe even teach them a thing or two. 
Learn about water, science, and the environment as a family! Get an interactive science or craft kit to do as a family and have fun learning about water's role in our day-to-day lives. 
And remember, it is always more conservation friendly to buy locally and from small businesses. 
We hope you have a great holiday season. Happy waterwise shopping!