A Community Toolkit on the 5-Year Water Conservation Plan
Two years ago we updated our 5-year Water Conservation Plan using public input collected through meetings and online submissions. We promised that we'd keep you informed and continue to ask for your valuable input. Please answer just a few questions to help guide us on the community's water conservation priorities. We appreciate the feedback!
Water Conservation Plan: 2021 Mid-Year Progress Report
Water Conservation 5-Year Plan – OVERVIEW
Water Conservation Plan: 2020 Progress Report
How are we doing?
It was a challenging year but the water conservation office did a great job meeting its goals due to the flexibility built into this scorecard. Ongoing programs like public outreach and the education program that have been essential components of the office endured the biggest impacts of 2020. The Water Conservation Office (WCO) is continuing critical programs including tracking water usage efficiency, issuing rebates to water customers, and sending out leak letters to warn customers of likely leaks.
Looking ahead to 2021, the following will be the water conservation office foci:
City partnerships – City's Canopy project, Bee's City USA, Neighborhood pilot in Nave Ade, Neighborhood raingarden pilot that includes building out places and demonstrations that the public can visit and still maintain social distancing
Complete overhaul of education program – build out of virtual hybrid passport model to launch in fall 2021 with help of a task force of previous passport teachers and city education outreach partners
Work with other city departments such as the library, recreation and transportation to distribute outreach material to children and adults
Incorporate messaging into the art community (art commission, tourism)
Updates to rebate program that include passive rainwater capture such as rain gardens to encourage residents to utilize supplemental water sources for outdoor irrigation
Focus on reducing outdoor water use beginning with public input sessions held with stakeholders to help inform the program foundation
Continue to work closely with the Water Conservation Committee under the leadership of Councilor Romero-Wirth to continue to discuss water conservation opportunities for the City of Santa Fe.
The WCO uses this scorecard to track progress against identified goals. The Water Conservation Committee (WCC) scores the WCO on the progress made mid-year – none, some, significant, or complete. This document contains a graphic snapshot for each goal, followed by detailed metrics on the complete mid-2020 WCO scorecard table.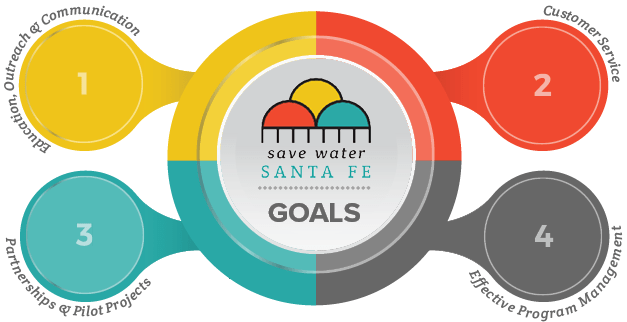 Below is a summarized snapshot of progress made in 2020 on each of the Water Conservation Goals.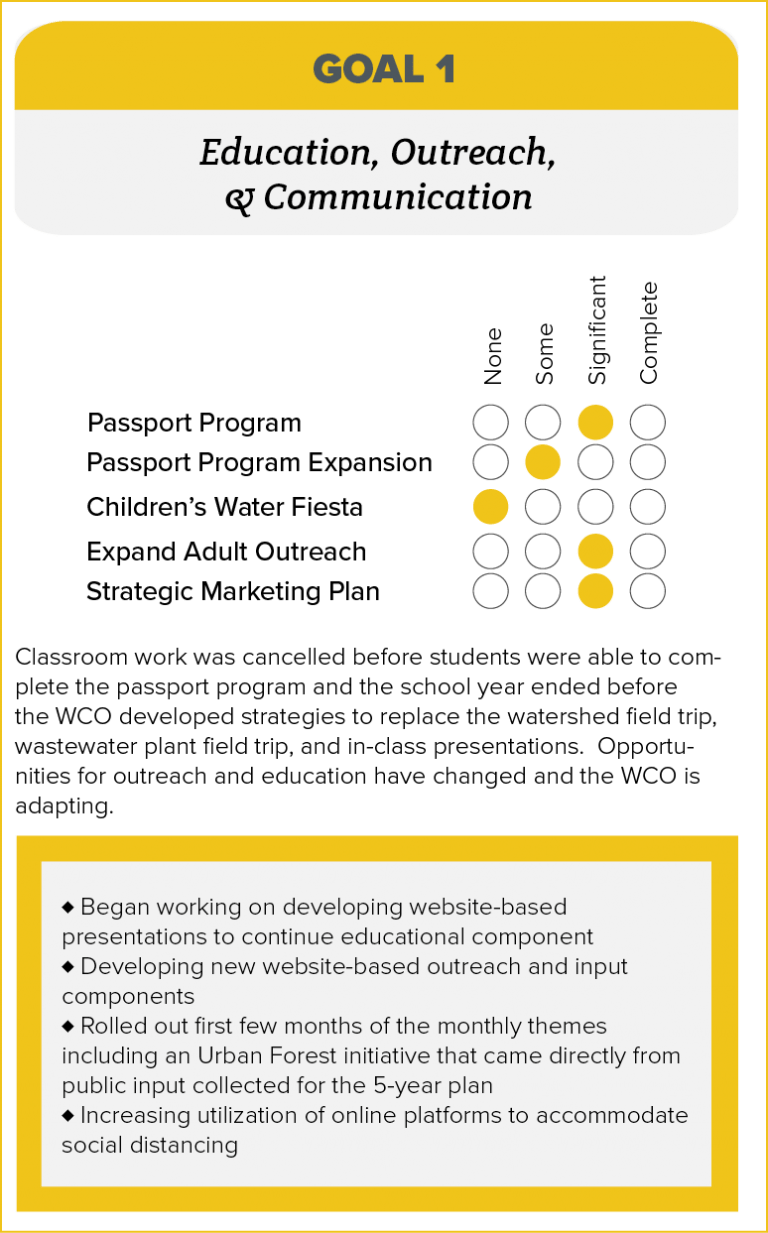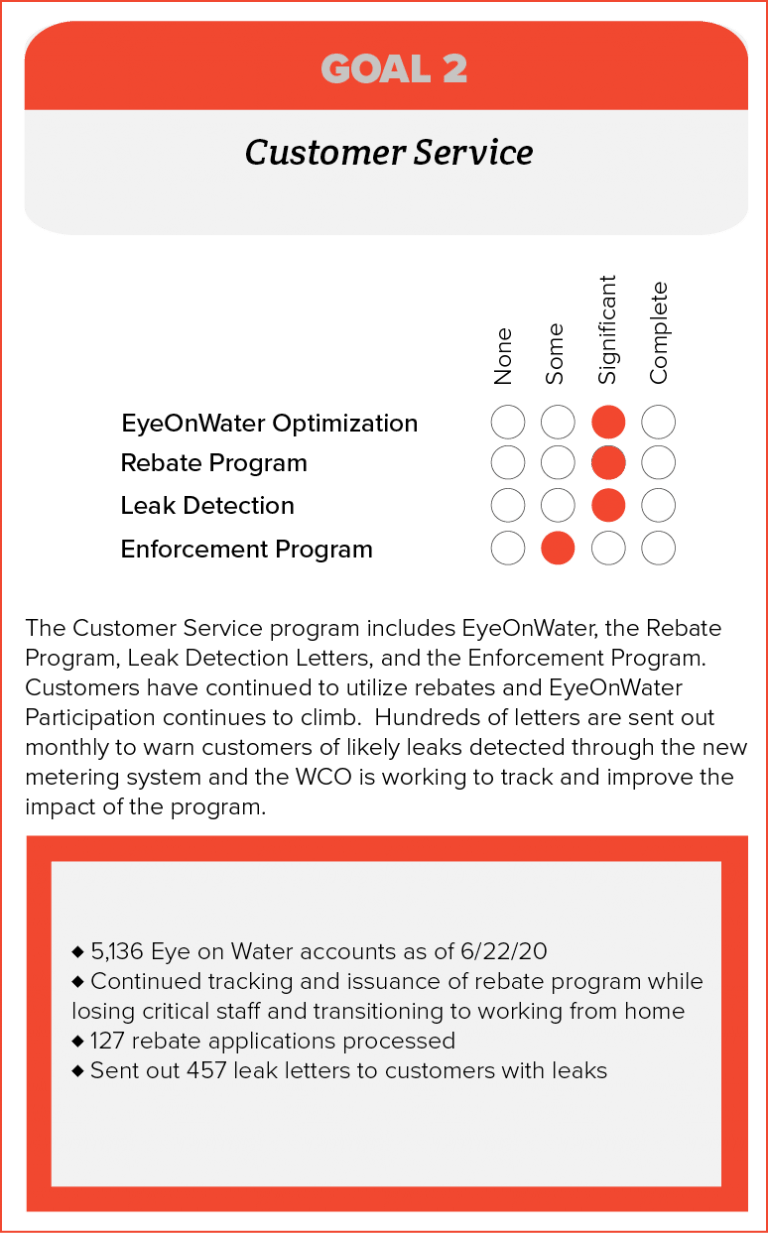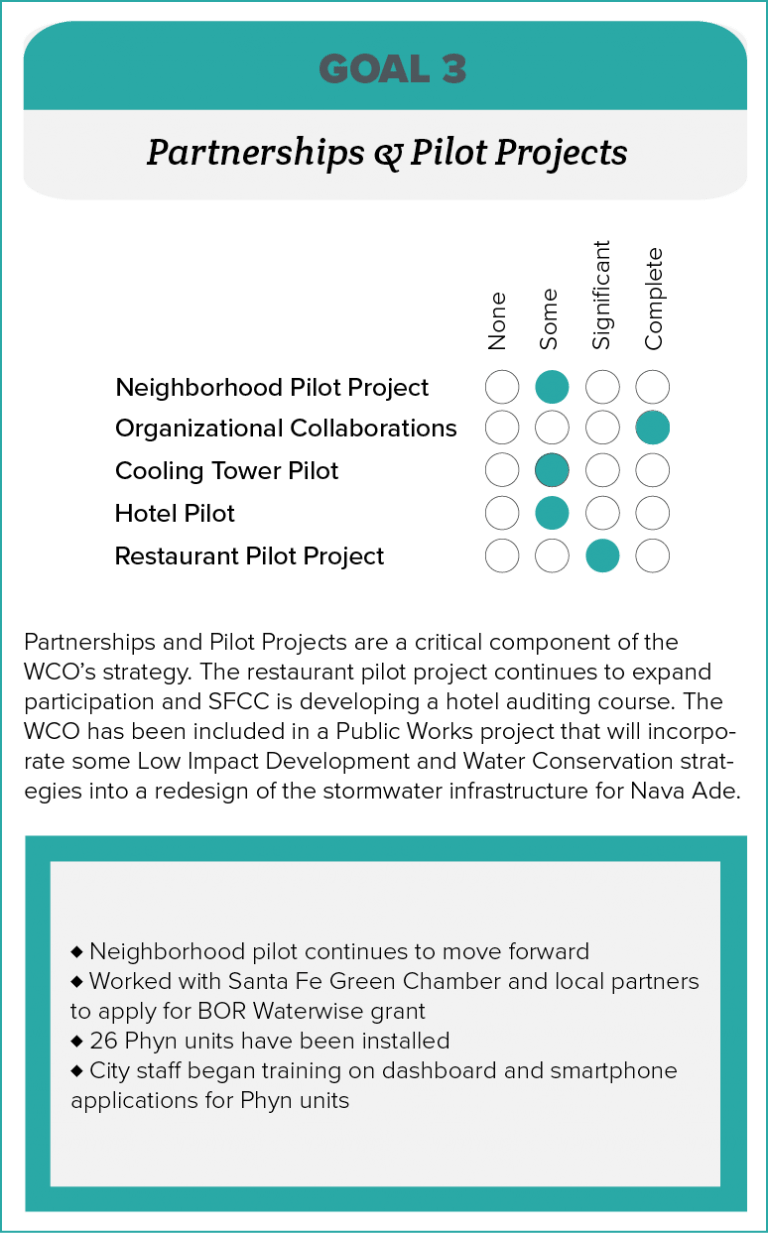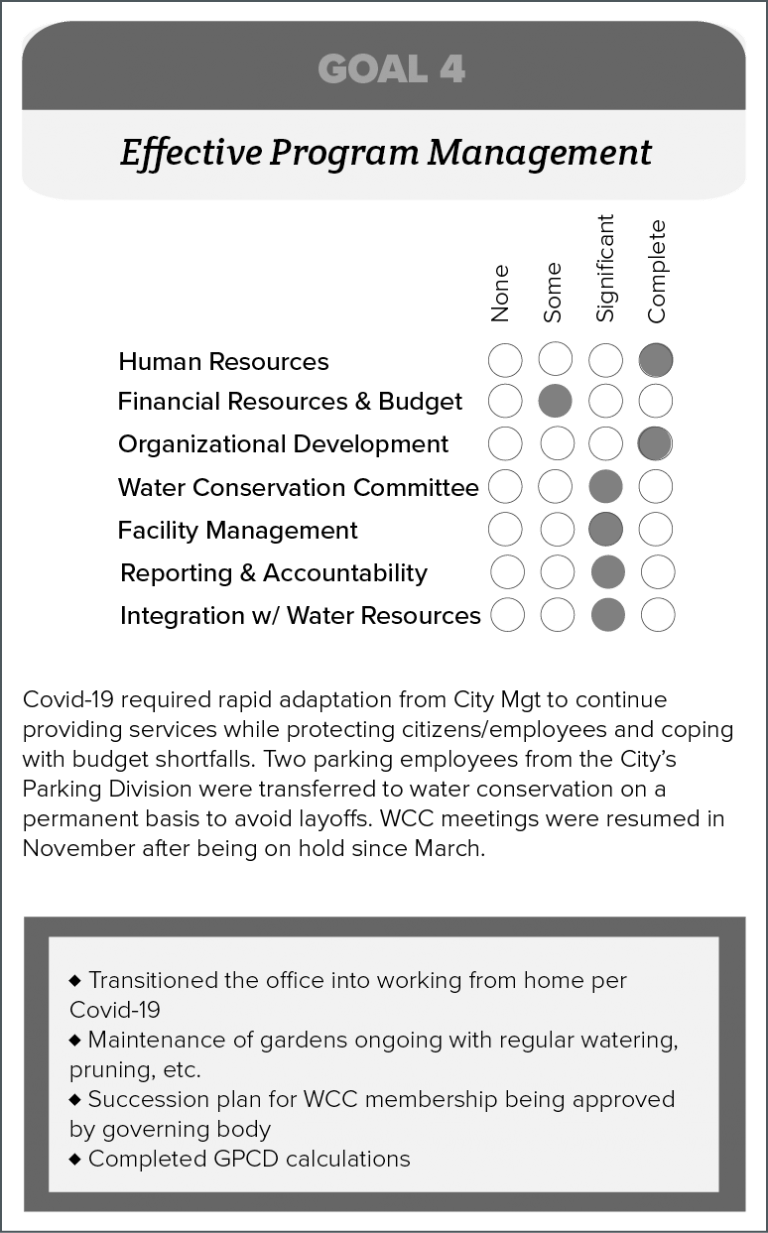 Scorecards
The WCO scorecard has been an effective tool to guide, measure, and report on WCO projects. The 2020 Scorecard is designed to provide broad guidance to the WCO and its programs, while the 5-Year Scorecard will be the primary guidance document for the WCO during the 2020-2025 planning period.
What's New
The 5-Year Water Conservation Plan has been making the airwaves. Listen to some most recent shows with guests that include Santa Fe Mayor Alan Webber and Santa Fe City Councilor Carol Romero Wirth. Also, Water Conservation Manager Christine Chavez was a guest on the Richard Eeds Show.