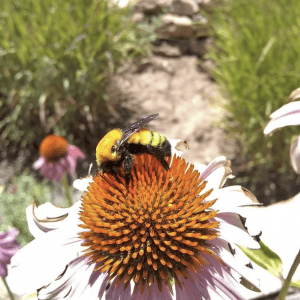 Drought and climate change flow through the small and large planning decisions we all make to save water, but what do bees and trees have in common with how we make smarter decisions for a future with less water?  
Bees and other pollinators touch our lives every day and we must think smarter about the bee species that visit our neighborhoods, parks and yards. Declining native bee populations are a problem because one-third of our food supply is dependent on bees. Without bees we wouldn't have an abundance of chile, apples, pumpkins and other fruit and vegetables we enjoy. Reasons for their decline include loss of habitat, nutrition and climate change.  
Pollinator-friendly communities can benefit local economies through healthier ecosystems, increased vegetable and fruit crop yields and increased demand for pollinator-friendly plant materials from local growers. A long-standing value of Santa Fe is the preservation of historical and cultural landscapes and traditions. Pollinators, native plants and agriculture are intrinsic to preservation.
In order to reduce these trends, we must all act to protect pollinators by giving them the habitat and resources they need to thrive, changing our landscaping and educating others about what is at stake. 
Fortunately, the City recognizes we can make a difference while there is still time through the Bees City Designation and the new TreeSmart Santa Fe Initiative. Both initiatives allow for the Parks Division, Environmental Services Divison and Water Conservation to work collaboratively on these efforts. Both programs also have considerable community support with over 27 city supporting non-profits, groups and supporting agencies signing onto the Bees resolution alone, allowing us the opportunity to work collectively to come up with solutions. Trees, Bees and Water are all connected. These two initiatives help us think collectively about every decision we make relative to what we are planting, what multiple purposes they serve, and how those plantings can be supported without creating additional outdoor water demand.     
The 3rd annual Next Generation Water Summit held June 2nd through the 4th will include community tours of the City's demonstration gardens which will highlight planting selections that are low water use and attract pollinators and which tree type, placement and proper irrigation will ensure plants and trees thrive. Local nursery driven plant and tree lists prioritized by low water use, local availability and pollinator friendly established by multiple partners as part of committee work facilitated by the Randall Davey Audubon Center will also be distributed.
Working on these issues collectively is of the utmost importance. This month the City of Santa Fe is participating in the 10th Annual Wyland National Mayors' Challenge for Water Conservation which is a friendly competition between cities across the country to see which city can be the most water wise through a series of informative, easy-to-use pledges online. Make your pledge at mywaterpledge.com to conserve water and save energy, and you can win $3,000 toward your annual utility bills, water saving fixtures, and hundreds of prizes.