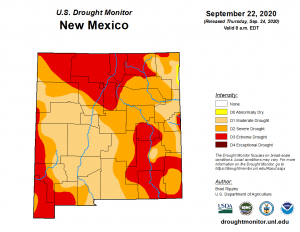 Drought and climate change are not new concepts. Historically, those who reside in the desert Southwest know that we've always had to face periods of drought.
It's time we move away from the "drought is the new normal" adage to simply acknowledging that drought is just a way life in Santa Fe. Maybe we should even embrace the concept – because although we can't escape it, we can certainly live alongside it by making a commitment to stretch every drop as best we can.
The City of Santa Fe Water Division has the responsibility to prepare the municipal water utility for a range of conditions that might result from global climate changes like less mountain snowpack, earlier or reduced peak stream run-off flows, greater evaporation losses, more extreme weather events, and increased summer demand from hotter, drier, and longer summer seasons.
Santa Fe's water supply primarily comes in the form of winter snow in the mountains that melts in the spring. Summer monsoon rains certainly help too – especially if you capture that rainwater for later use – but as a percentage of total annual precipitation, it's our snowfall that really makes up the lion's share of Santa Fe's water supply. Which is why, as a resident of The City Different, it's important that you understand not only where our water comes from, but that our annual precipitation varies wildly.
A couple of years ago we enjoyed an "El Niño" winter. It gave us a hefty snowpack that our forests, wildlife, aquifers, and skiers were craving. In the summer that followed, our rivers were full, aquifers were partially replenished, the wildfire risk decreased, and our high desert urban forest was vibrant with life. It was a great year precipitation-wise, but all that moisture didn't last.
We're now in the midst of a "La Niña" weather period, characterized by warm and dry weather, particularly during winter. Our monsoon was disappointing this summer and experts are predicting a dry winter ahead of us. So, what can we do to help mitigate ongoing drought?
Having a keen understanding of our precipitation patterns from year to year is exactly why the City invested in a diverse and robust water supply portfolio that includes surface water (Santa Fe River and Rio Grande), groundwater, and all of us – the community – in the form of water conservation.
Whether you're a newcomer to Santa Fe or a born-and-raised Santafesino, we all have a collective responsibility to value our water and be the best stewards we can over a shared and finite resource that our community relies upon. Taking shorter showers, replacing high water use landscapes with drought tolerant xeriscapes, and installing water efficient fixtures and appliances are just a few examples of things we can all do to impact wider change.
To take your stewardship further, the City and County are asking for public input to help inform and identify priorities for the Five-Year Water Resource Planning Cycle—a roadmap for the planning process that will be completed the end of 2020. A short survey and meeting details for five virtual public meetings to be held October 19, 20, 25, 26 and 29th are available at  https://www.santafenm.gov/water_division