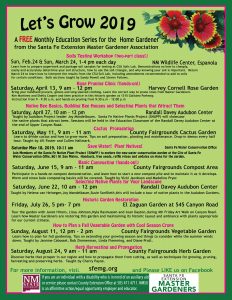 Don't miss Save Water! Plant Natives! – an event that will take place on Saturday, May 18th at our office*. Members of the Santa Fe Native Plant Project will tour our new water conservation garden. There will be handouts, free seeds, raffle prizes, and an update on upcoming plans for the garden. We hope to see you there!
The Santa Fe Master Gardeners offer monthly classes on topics including:
Pruning Roses,
Cactus Propagation,
Composting,
Creating A Pollinator Garden, and many more.
For details, click LET'S GROW to see a list of all upcoming events.
*LOCATION NOTE: Google maps and other navigation tools will route you to the Water Division/Public Utilities Building at 801 W. San Mateo. Please note that the Santa Fe Water Conservation Office is a separate building. Our office is located across the parking lot from Midtown Bisto/Yoga Source. It's behind (north of) the building in which Verde resides and just south of Extra Space Storage.