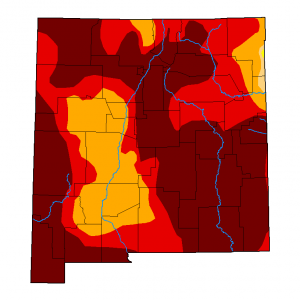 Water has a special place in our thinking, especially here in the high desert when all of our water sources are linked together. For those curious as to why the City was going to release water from one of our City reservoirs down the Santa Fe River while we are in a drought, the simple answer is we don't own that water. New Mexico water rights law is based on a first in time, first in right doctrine and a use it or lose it requirement. Texas owns the water being released and they want to use it. But that water represents only ¼ of water Santa Fe stores. We own the rest for our use.
Water conservation and drought awareness are cornerstones of the City's comprehensive water planning approach, drought or no drought. City staff monitor drought conditions and keep up-to-date on snowpack, reservoir levels and adverse water conditions. Should drought conditions significantly worsen, the City can invoke strategies to provide short-term relief from temporary drought-related water supply shortages, including mandatory water restrictions for certain types of water use.
However, saving water is always in season in Santa Fe and part of our community ethics to ensure water is available to meet critical needs. Many of your neighbors and friends are already doing their part to deal with our exceptional drought situation. It is who we are, and we lead the region when it comes to our water saving way of life.
With spring around the corner and no end in sight for our dry weather, now is the time to keep our water ethic going. Now is the time to sign up for EyeOnWater and join the thousands of your fellow citizens who have already done so. You can see how much water you are using and compare it to how much you used last month or last year. We can set water-saving goals or friendly challenges with our families and neighbors to see how low we can go using water beyond the current 59 gallons per person per day.
Outdoor irrigation is our biggest water use. Now is the time to get that rain barrel or cistern to capture water or invest in grey water reuse and save money with our rebate program. Now is the time to install or upgrade rain and soil sensors and water irrigation controllers. We have rebates for all of these. Now is the time to visit savewatersantafe.com for tips and tools on how to fix leaks, maintain or install irrigation systems, select drought resistant trees and flowers, follow the drought monitor and learn all about what we are doing now, the plans that are in place and plans in development. There are also helpful apps like the Water Calculator that shows which water uses in your home are efficient and offers tips on saving water and energy, and a virtual home tool to help you identify potential savings.
We would also like to hear how you are saving water by sharing and posting your stories on our social media channels @savewatersantafe #savewatersantafe.
Conserving water is the most direct way to make certain it's available in the future. Santa Fe's low water use reflects the conscientious approach our community takes so seriously. We always need your help to help us help you save water.
To gain a better understanding of drought status, planning and management please visit savewatersantafe.com/drought