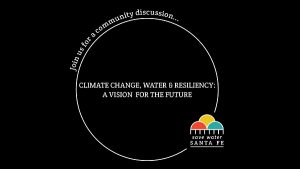 The City of Santa Fe Water Conservation Office is hosting five public community conversation sessions to obtain input prior to developing the City's five-year water conservation plan.
The kick-off meeting on March 2nd from 10 am – 2 pm at the Genoveva Chavez Community Center is an informational session entitled Climate Change, Water and Resiliency: A Vision for the Future. The session provides the public with important information on the City's current conservation efforts on how water is used by different sectors including residential, commercial and outdoor rebate programs. The public conversations will inform new ideas or programs for the five-year water conservation plan.
"Instead of drafting a plan and then asking for input, we want to better understand the community's priorities on how they value water before we begin drafting the plan", said Christine Chavez, Manager of the Water Conservation Office. "It is important for the community to shape the direction for the plan, and allows the community to have their viewpoints considered during its development", Chavez said.
Following the informational session, four public input meetings will be held in each of the four City Council districts.
All meetings are free to the public and co-hosted by the City of Santa Fe Water Conservation Office, The City's Water Conservation Committee and the Santa Fe Watershed Association.
All session input will be posted on https://savewatersantafe.com/water-conservation-plan and the public can review frequently asked questions, meeting summaries and submit questions or comments. The public is encouraged to check back frequently for the most up-to-date information.
The plan is expected to be finalized by the end of July.