Santa Fe Named Sustainable City of the Year
Restaurant Water Conservation Program Highlighted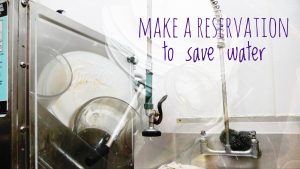 The City of Santa Fe has been named a Sustainable City of 2020 for leading by example and making strides in working toward solving environment challenges. The annual award by Green Building Media, Inc. centers on the City's restaurant water conservation leadership efforts.
"Here in Santa Fe we know that water is life," said Mayor Alan Webber. "Our water conservation efforts have set a national standard and these restaurants are our partners in creating a cleaner greener more water-conscious city. We made water conservation and reuse a key component of our 25-year Sustainable Santa Fe Plan that is putting our community on the path to be completely carbon neutral by 2040."
The City of Santa Fe Water Conservation office partnered with the Green Chamber of Commerce and Phyn, a leak-detecting marketing technology manufacturer, to conduct 30 restaurant water audits measuring water use from every appliance in each restaurant. The pilot project collectively saved 450,000 gallons a year and identified over 1.5 million gallons of water that could be saved each year. Santa Fe restaurants use more than 635 million gallons of water each year. A 20 percent reduction will save more than 120 million gallons of water in the first year alone.
A new ordinance was developed to identify the administrative procedures and incentives for new commercial water conservation rebates. The City is currently recruiting 100 restaurants. Participants will receive a free commercial water audit valued between $500-$1,000 to determine current level of water use efficiency and identify ways to cut down on water use, along with free onsite equipment such as aerators and pre-rinse spray valves.
So far the following restaurants have signed up:
Ecco Gelato & Espresso
Sweetwater Harvest Kitchen
Joe's Dining
The Ranch House
Restaurant Martin
The Pantry
A new partnership with the Santa Fe Community College, funded by a National Science Foundation Grant, was formed to develop workforce curriculum and training certifications in an effort to expand the number of auditors for restaurants, hotels and other commercial properties.
"Our trifecta partnership demonstrates what a collaborative City approach can do to provide sustainable programs that benefit not only our water saving efforts, but also expanding our workforce," said Christine Y. Chavez, City of Santa Fe Water Conservation Office Manager.
Interested restaurants can contact wcoffice@santafenm.gov or call 505.955.4219 or visit savewatersantafe.com/make-a-reservation-to-save-water for more info.
About Green Builder Media, LLC
Green Builder Media LLC is North America's leading media company focused on green building and sustainability, affecting positive change by providing inspirational information to over 200,000 progressive building professionals and millions of consumers who are interested in sustainable living. Austin and San Luis Obispo are also named Sustainable Cities of the Year.
Click here for downloadable PDF of this article.