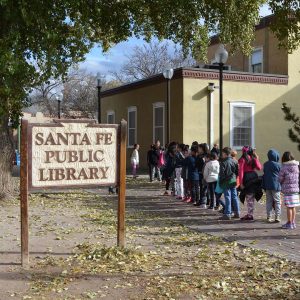 Saving water has been a priority for our community since the City took over the water system in 1995, and that will not change anytime soon. Water conservation is the cornerstone of the City's plan to continue to increase water resiliency into the future. Our long-range planning shows that through continued water conservation, diverse water supply sources and infrastructure improvements already in the works we can continue to enhance our resiliency.   We are proud to be part of a community so focused on conservation, and we are here to help continue to navigate a future using less water. 
The City is leading the push towards greater water savings.  We recently replaced and repaired fixtures in 15 City facilities including bi-centennial pool, recreation centers, libraries and office complexes that together will save 2.3 million gallons per year—equal to more than 50 homes worth of water use. Santa Fe businesses have contributed to the city's saved water success with over 450,000 gallons of water saved so far through an award-winning Santa Fe Certified Waterwise Business program, including 72 restaurants, 5 hotels and 14 other certified businesses, along with a pilot project at St. Michael's Village. Be sure to visit savewatersantafe.com and check-out who they are and sign up if your business is interested.  
On May 21st, we will once again be hosting a Community Water Conservation Day at the Railyard Park as part of the Next Generation Water Summit. Attendees will be entered to win a rain barrel and offered packets of native seeds, water activity booklets for the kids, water conservation kits, a shut-off nozzle for the garden hose, and our Pollinator Resource Guide which has discounts at local nurseries. It's a great event for learning how to choose waterwise native flowering plants, trees, shrubs and cacti that support our urban forest and its pollinators.  The Xerces Society, Santa Fe Watershed Association and the Randy Davey Audubon Center are just a few partners who will be present that day.
Santa Feans have asked for more help selecting drought tolerant and pollinator friendly plants and trees and we have worked with partners to make those available through local nurseries and on our website. Last March, Santa Fe officially became a Bee City, committed to conserving our native pollinators. Partners across the city established the TreeSmart Santa Fe Initiative to ensure that we have a healthy urban tree canopy to cool our city, conserve water and nurture vibrant, livable neighborhoods. 
We will keep looking for new and better ways to save water, and we thank you for the day-to-day, year-to-year efforts that have and will continue to ensure that Santa Fe has a resilient water future. Let's keep it going. Sign-up for EyeOnWater to detect leaks and get rebates by shopping for qualified indoor appliances. Help us reduce potable water use outdoors, by investing in rainwater harvesting and rainwater based landscaping. Together, we can navigate our future with less water and remain resilient. Thank you for helping us build a resilient water future. Visit savewatersantafe.com.