Five-Year Water Resource Planning Cycle – CITY WATER DIVISION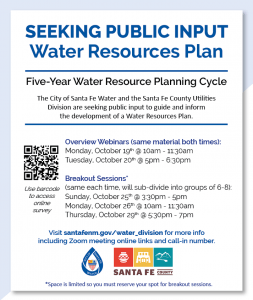 City of Santa Fe Water (City) and the Santa Fe County Utilities Division (County) are initiating a science-based, community informed, five year planning cycle to develop long range water resource management plans. The first cycle, which begins this year and is scheduled to be complete by the end of 2024, will be evaluated, refined, and repeated every 10 years or as necessary in future years. A key product of the planning process will be Long Range Water Resources Plans for the City and County.
The two entities created an ONLINE SURVEY to get a sense of how you think about water. This survey takes between 20 and 30 minutes to complete. If you don't have that much time, please take a quick look and just answer the questions that are interesting to you.
The public is also encouraged to participate in virtual online public meetings/webinars. Below is the webinar schedule:
Overview Webinars (same material both times):
October 19th (Monday) 10am – 11:30am
October 20th (Tuesday) 5pm – 6:30pm
                    Online:           https://santafenm-gov.zoom.us/j/92793199774
By phone:       (669) 900-6833  Webinar ID 927 9319 9774
Breakout Small Group Sessions (same each time, will sub-divide into groups of 6-8):
October 25th (Sunday) 3:30pm – 5pm
October 26th (Monday) 10am – 11:30am
October 29th (Thursday) 5:30pm – 7pm
                    Online:           https://santafenm-gov.zoom.us/j/8352202097
By phone:       (669) 900-6833  Meeting ID 835 220 2097