Choose waterwise for Restaurant Week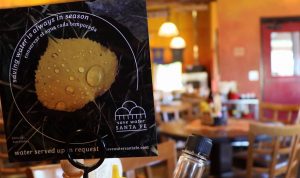 Santa Fe Restaurant Week kicks off this Sunday, February 23. It's a City Different favorite and the Water Conservation Office, along with the Santa Fe Green Chamber of Commerce are encouraging residents and visitors to dine at city certified waterwise establishments.
Below is a list of Santa Fe Restaurant Week participants cross referenced with our restaurant partners that have earned a city Certified Waterwise Badge through our commercial water saving program Make a Reservation to Save Water. These restaurants are committed to reducing their water footprint in Santa Fe. If your favorite restaurants aren't listed, encourage them to sign up and become a project partner. Use #MakeAReservationToSaveWater on social media during your waterwise restaurant week in the sustainable City Different.
Amaya Restaurant
Andiamo
Better Day Coffee
Blue Corn Brewery
Bumble Bee's Baja Grill