Quench Your Water Learning Thirst! Calling all kids, families, educators and youth organizations as we launch new Children's Education Program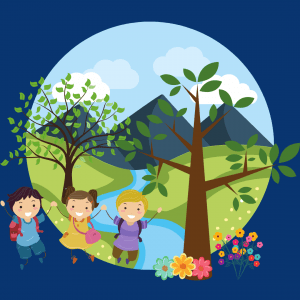 Education is the key to helping children appreciate the value of water conservation and the role they have in it. Children are our future and as they grow and comprehend the world around them, it is important they learn just how vital water is, why it is important and how they can protect it.  When kids are knowledgeable about science, they are empowered to act and share their knowledge with others. 
Education geared towards our youth is a main priority for the Water Conservation Office. The City had established a Passport Program where 4th grade students were able to tour the Buckman Direct Diversion Plant, Wastewater Treatment Plant and receive in-class presentations on water conservation, recycling and the energy-water nexus. This program also included our annual water fiesta, where over 600 kids would gather in the convention center to learn about water conservation through a series of educational activities from partners statewide. COVID required us to rethink how we could deliver these education components in a safe environment. The education resource booklet was designed to supplement the Passport Program, outdoors, in a way that engages the entire family. Educational watershed tours coordinated by the Santa Fe Watershed Association were also safely conducted in 2021-22, in an outdoor classroom where social distancing could occur.
The education resource booklet was designed with the help of City, County and local partners to provide interactive, hands-on investigations. These activities include pollinator bingo, designing a garden, reading challenges and mapping water right outside your door. Kids earn prizes for completion of the activities including a laptop backpack, a reusable stainless-steel water bottle, t-shirt, native seeds, lanyard, bracelet, hand sanitizer and other fun items. 
The booklet is intended for families, youth groups, classrooms and others to do together. It includes projects and information about where water in Santa Fe comes from, how we can use it more sustainably, and where it goes when we are done. The booklet has lots of wonderful information for kids and their families on topics like soil conservation, watershed science, plants, pollinators, rainwater harvesting, building a bee-friendly garden and much more. Best of all, you can find a wealth of information on what you can do in your home and right in your own backyard to save water. 
To get started download a PDF of the Water Activities Book. You can also pick up a copy at any of the local libraries. We would like to expand our partnerships with local schools, youth non-profits, summer kid programs or camps or any group that is looking for fun summer learning activities. Please contact the Water Conservation Office at 505.955.4225 or wcoffice@santafenm.gov. The Office is happy to facilitate small learning environments using the booklet in a way that meets everyone's goals.
Taking care of our water supply we all depend on starts in our own backyards. Share your passion for conservation with Santa Fe's children today!